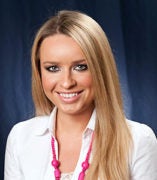 Anna Dworzecka
Graphic Design Manager
Marketing and Brand Management
Contact
Office Phone:
Email:
About
As Graphic Design Manager I manage a team of designers at the Office of Marketing and Brand Management. I lead the development of designs across all types of media, from graphic design to digital, video production and editing, and even art direction of photoshoots.
I graduated from the UIC School of Design in 2005 and have been part of the UIC family ever since. During the course of the last 14 years, I have worked for the Office of Public and Government Affairs producing work ranging from newspaper design, web design, and video production. I have delivered high impact concepts for marketing collateral, dynamic visuals for campus events such as the Richard J. Daley Urban Forum, undergraduate recruitment, legislative lobbying, brand identity, as well as support for the Office of the Chancellor.
Before coming to UIC, I was studying illustration at the American Academy of Art in Chicago.
My extensive background has helped me to bring creative concepts to life. During my years at UIC, I have won five awards for my work, including honors from the Council for Advancement and Support of Education, the Publicity Club, and MarCom.