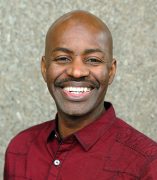 Victor Bonhart
Graphic Designer
Marketing and Brand Management
Contact
Office Phone:
Email:
About
As a Graphic Designer, I am responsible for letterhead and logo creations for UIC units, creating ads and logo concepts, designing brochures, flyers and other miscellaneous material. I also provide photo and web assistance for updating the monthly rotation of images on the UIC.edu website and UIC today online newsletter. I also provide assistance to the UIC News team with retouching photos and illustrations for ongoing UIC News stories.
Other career experiences include the execution of a large body of well received print and web work while employed at UIC Creative and Digital Services. I helped to establish brand identities for several Student Affairs units, executed promotional material, ads, multi-page brochures, web and print media. In addition, I designed, created and executed the first ever UIC Cookbook for the Wellness Department in 2018, where over 600+ printed copies have been sold so far.
I have worked in advertising agencies on accounts such as Motorola, USPS, and Coors Beer, to client side business of Sears e-commerce, where I built and created website material and performed web coding on Kenmore, Sears, Kmart and Craftsman brands. I also have extensive experience working on CMS site development and design. I graduated from Columbia College Chicago.